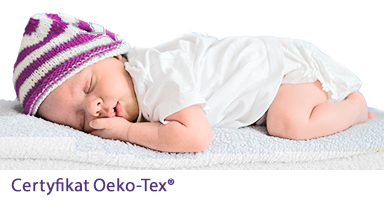 We are very proud to announce that Pepi Leti, as a first Polish producer acquired a prestigious certificate The STANDARD 100 by OEKO-TEX® for class I products, for our Minky fleece.
The results of the assessment carried out in accordance with The STANDARD 100 by OEKO-TEX®, attachment 4 – Product class I – showed that Pepi Leti's Minky fleece meets the human-ecological requirements of The STANDARD 100 by OEKO-TEX® included in appendix 4, applicable to products for the youngest children.
Certificated articles meet the strict criteria included in the annex XVII REACH, such as usage of azo colourants, nickel release, etc. as well as requirements for total lead content in children articles.
What is especially important, The Certificate was issued by Textile Research Institute in Łódź. Textile Research Institute is a member of international association Oeko-Tex and as the only one in Poland carries out certification processes, tests and issues the certificates for textile products according to The STANDARD 100 by OEKO-TEX®.
Since 1992 The STANDARD 100 by OEKO-TEX® is the world's leading textile safety sign. Products, which were given this label are free from harmful substances in concentration that may have a negative impact on children's health.
Does not contain pesticides
Does not contain chlorophenols
Does not contain formaldehyde
Does not contain allergic dyes
Does not contain forbidden azo dyes
Does not contain extractable heavy metals
Detailed studies include dangerous compounds, such as:
Prohibited MAK amines in specific azo dyes
Other carcinogenic and allergic dyes
Formaldehydes
Pesticide Chlorinated phenols, phthalates, perfluorooctanesulfonic acid (PFOS), perfluorooctanoic acid (PFOA)
Residues of surfactants and wetting agents (APEO)
Chlorinated aromatics
Extractible heavy metals and heavy metals from the mineralized sample
Polycyclic aromatic hydrocarbons (PAH)
Solvent residues
pH, stain resistance, odor
Organotin compounds
Emission of volatile compounds

In order to ensure that the textiles are harmless to health, a catalog of criteria for product certification was developed. It consists of over 100 parameters. Set up standards include not only substances that are prohibited or regulated, but also other substances that, according to current knowledge, have health implications. The scope of research also includes parameters of preventive importance. This ensures a level of security that goes far beyond the statutory guidelines.
OEKO-TEX® testing methods are based on simulation tests, that take into account possible routes of entry of chemicals into body:
Through the skin
The tests are carried out using an artificial perspiration solution to determine if and in what amounts the substances present in the textile enter the body as a result of contact with the sweat
Absorption by the digestive tract
In the case of products intended for children, saliva resistance is important. This type of test is performed using artificial saliva solution.
Inhalation of harmful substances
OEKO-TEX® laboratories conduct volatile emissions testing and odor determination to check the likelihood of harmful substances entering the human body through the respiratory tract.
The phrase "Trustworthy Textiles" is synonymous with responsive production of textiles, security and transparency worldwide. It is recognized by manufacturers, traders, but also consumers of fashionable, functional and colourful textiles.
Product class I The STANDARD 100 by OEKO-TEX® means that textile and textile toys are fully safe for children under 3 years of age.
The STANDARD 100 by OEKO-TEX® certifies compliance with the requirements of Annex XVII REACH, including the usage of azo colourants, nickel release, etc. as well as requirements for total lead content in children articles ICPSIA. It allows to sell textile products on the markets of EU countries, Russia, Ukraine, Belarus, USA, Canada, Japan and others.
Every client buying Pepi Leti's Minky fleece can freely use our The STANDARD 100 by OEKO-TEX® and use it, referring to its number and report number.

Pobierz certyfikat

Download certificate